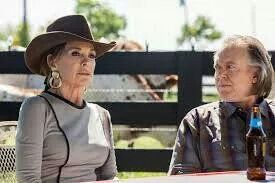 I have worked on-camera with Robert De Niro, Billy Bob Thornton, George Clooney, Pierce Brosnan, Linda Gray, Patrick Duffy, Jeff Daniels (twice), Jason Patric, Jean Claude Van Damme, Chuck Norris, Carol O'Connor, Christopher Reeve, Dolph Lundgren, David Hasselhoff, Susan Lucci, Wishbone (the dog), and others.
As an actor, I am considered a specialist. I am a character actor, which means that in one way or another I have passed beyond being good looking into the realm of "having an interesting face"; and after a 30-year career in front of the cameras, I'm mostly hired to work directly with stars or other celebrities to make them look good. Such a position bears a couple of different responsi­bilities beyond just knowing your lines when you get to the set:
You had better be very, VERY good when you show up to work with a star of high caliber or they will blow you off the screen! If you are not full-out amazing, your character will receive little or no camera coverage in the editing (all of that will go to the star) and the writers will immediately begin looking for ways to write you out of future episodes!
B) It is very difficult to avoid becoming a sycophant around gigantic personalities … BUT YOU BETTER NOT DO IT! Under no (or at least very few) circumstances should you kiss ass on the star or otherwise behave out of the ordinary. If they want to see fans, they can step outside of their trailer. YOU are there to work with them professionally, and that is a whole different ball of wax from asking for autographs or photos on your iPhone. And your work affects their work. So be professional. Be polite. But do not suck up or ask for autographs (even when others are doing so). You won't stand out as a competent co-worker and someone to be trusted if you make yourself part of the fan-crowd. So, hold your own or get out of the way, but don't be "that guy" on a set.
C) Be funny/clever or serious/smart (although funny/clever usually works best), but don't be boring or overly talkative. Larry Hagman and Billy Bob Thornton are two of the funniest human beings I have ever met in person. Both of them possess a charisma and a wit that simply light up a room. Even if they weren't internationally famous, they would have still had the same effect on a group of people. Their personalities are literally magnetic, and that's one of the reasons they are stars in the first place.  So, if you can be funny (in an appropriate way) on the set and get a laugh or two of your own, this will help everyone deal with the tension that's inherent on a film or television set.  I grew up as a class clown (as many actors did) and so I try to land the occasional punch line. It doesn't always work (and you can certainly blow yourself up this way); but if you are lucky, people (including the star) will think you are funny and a good actor.  On the other hand, a guy like Jason Patric is generally a very serious fellow (at least when he is working, off set he actually has a wicked sense of humor too).  With someone like Jason, I am all business.  I sit quietly in my chair until it's time to go before the camera, maintaining a certain level of concentration (like meditation) at all times while I'm on the set with him.  So you have to know which way to go and when: funny/clever or serious/smart. If you don't know which to choose, stay quiet.
D) Always give it your all on the other guy's coverage (particularly when it is on the star) and be ready to do your own best job last. Currently, the expected protocol is to stay present, focused, and give full and committed reactions even when you are not on camera. And I think that goes for stars, too.  At least that's what all the stars that I respect do. Patrick Duffy is a master at this. He very consistently is right there with you, during his co-stars close-ups just as much as his own; a super-generous guy. However, here's a practical reality of Hollywood:  Usually, the star's close-ups are first and the guest actor or co-star goes last.  So, no matter how long the day, an actor worth their scale will still have enough energy left at the very end to knock their close-up out of the park—otherwise, that coverage will go to the star as explained above.
The rest of the time, when I'm not on set and directly in a scene with the star, I leave them alone (unless I am invited to engage in conversation or otherwise hang out.)  This is a rule you will certainly be taught as an extra and already should know if you are hired professionally in a speaking role for film or TV.  But I also respect this rule when I'm credited as a bona fide guest star or above. There are reasons for this:
Try to imagine that your job on any particular day requires you to go through the emotions of losing your family and your marriage, being chased by police, getting into an argument with a criminal then getting into a fight with him, or any other set of circumstances that might make up the character arc of the star of a TV series or movie.  This is fairly serious stuff even though it is "just acting." The way this is often accomplished is to simply go through the actual emotions of the circumstances of the scene. Even if you don't really get hurt, the body doesn't necessarily know the difference between "real" and "fake" screaming, crying, shouting, slapping, being slapped, shooting an automatic weapon or being in close proximity to the fireball from a multi-story explosion. It is intense. It can give you real rushes of adrenaline. If done well, the emotions are real. It can be exhausting.  And if you are the star of a show, you are most likely going through some version of this every day for weeks on end (or at least being prepared to do so).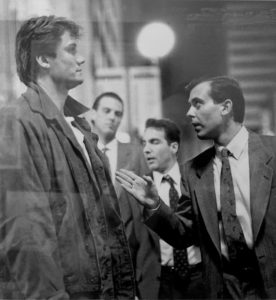 In general, this is why you want to leave these people alone unless you are directly engaged in the work being done. They really need to concentrate!  Be friendly and smile.  Be nice to everyone on the set.  But otherwise do your job and mostly be quiet about it.  You will know if you ever reach a position to violate any of these rules.  Until then, make your momma proud and be politely seen and not heard.
The final note is this: even if you are not on set with a well-known star, take care of your crew. Be polite. Be kind. Listen. They are there to help you look good. They are also the very first audience for your performance (as they are for every scene in the show), so treat them well and do whatever you can to "be liked" by the crew.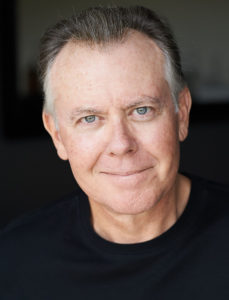 Kevin Page is an author, actor, and holds a master's degree in psychology. He writes about mindfulness meditation and other healthy mind/body training techniques that make us better actors and human beings. As an actor, he was blown away by a robot (ED-209) in the classic movie, RoboCop (1987), offered Jerry his "show about nothing" on SEINFELD, and played the character that ultimately shoots and kills "JR Ewing" on the 2012 re-boot of the TV series DALLAS. He has appeared in over 100 commercials, voice overs, stage plays, and industrial films throughout his 35-year acting career. He has three new books coming out in 2018, Advanced Consciousness Training (A.C.T.) for Actors (Routledge, 2018), that teaches both stage and screen actors how to use various meditative arts to improve their abilities as performers; Psychology for Actors (Routledge, 2018), that applies 20th century post-Stanislavski psychological theories and techniques to the actor's craft; and 150% Better Auditions
(now available on Amazon.com) a popular version of his meditation system for actors and performers of any type. In addition to writing and acting, he has been a documentary filmmaker, stockbroker, investment banker, entrepreneur, gallery owner, and artist. He holds four U.S. patents on a technology that uses robotics and software to create large-format pointillist-style oil paintings.
Kevin Page is active on social media and can be followed on various platforms, including:
www.facebook.com/150PercentBetter
Twitter: @KevinWPage
IMDB: http://www.imdb.com/name/nm0656241/
YouTube Channel: http://bit.ly/2Cj7LNk